– Virtual Presentations that Work –
deliver great virtual presentations
New Virtual Workshop Series » Click here!
Face it! Most virtual presentations are boring.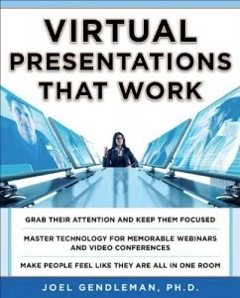 Your presentations and virtual learning do not have to be just another teleconference with PowerPoints. We can help you develop and deliver rich virtual presentations that audiences will gladly attend and will not forget. Such compelling presentations can increase sales, reduce the time it takes for your employees to get up to speed, and increase the adoption of key corporate initiatives.
The types of virtual presentations that you will be able to successfully present are virtually endless. These include sales presentations, product launches, technical seminars, product demonstrations, company briefings, training courses, impromptu speeches, panels, and roundtables.
For more information on how you can create compelling presentations, check out these resources:
Contact us for help in developing your presentation.